This is just a quickie this evening, tee hee, and there has been a last minute subject change, sort of. I was going to moan about, what a surprise you are thinking to yourselves, about "Back to School" sales starting just as your lovely children start their summer holidays because I wondered through town on Monday and they had already started and I was reminded of how much this used to annoy me as a child but I was top trumped on the things starting to early front by my brother who sent me this picture taken in Weymouth this afternoon,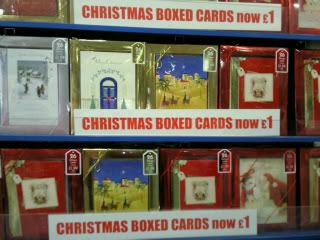 Now really, August has not yet begun and you're selling Christmas cards. You don't think that might be a tiny bit early?
Just another quick note, we went to see Wall-E yesterday and it is fantastic, on every level. The animated short before the main feature is perhaps the funniest thing that Pixar have ever made. The film it's self is a joy. The animation is just unbelievable, it's beautiful. The story is touching and funny. There is hardly any dialogue. It's great in general, obviously there are one or two problems i.e. the anti-capitalist slant of the film rubbing against the 3 or 4 product endorsement in last Saturdays Guardian magazine and the fact that it's a DISNEY film but I'm being picky so I'll stop now. Go and see it, it's great.