No proper blog this week as there is a family sadness but we will have some awards,
Award for Spoilt Brat of the Week,
This goes to Miley Cyrus (or is it Hannah Montana, I'm never sure which one is a fiction). She has spent much of the last 2 weeks telling interviewers that Radiohead didn't want to meet her backstage at the Grammys. She said in one interview, "If someone, like, said that, like, 'I would cry if I met them. I really want to meet them,' I would freaking, like, run and, like, give them the biggest hug in the world because that's cool, you know? But they were like, 'We don't really do that.' " No, I don't understand what she said either but I think she asked Radiohead, who are mid to late 30's, to come and meet her, who is 17 or something, why would they want to meet you? And she now says that she can't listen to their music any more because of the way they treated her. I'm sure that they are not that heartbroken. However her treat to "Ruin them" probably will make them sit up and take notice because I believe that pre-schoolers are Radiohead's core demographic. They had already snubbed Kanye West that evening so Miley really didn't stand a chance no matter how great Disney tell her she is, as long as she keeps shifting product.
Award for Unfortunate Greetings Card of the Week,
This goes to a Mexican man who arrived at Manchester Airport on a flight from Los Angeles, claiming he was on a brief visit to a friend. When searching his luggage immigration officials found a good luck card for a "new life in the UK". D'oh.
Award for Picture Most Likely to Cheer You Up This Week,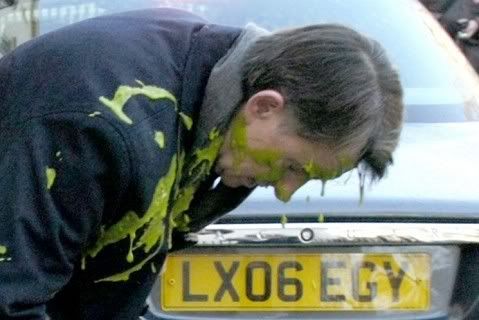 Look, its Peter Mandelson covered in green custard.
Award for At Least They Are Trying,
Cadbury's Dairy Milk is to go Fairtrade. This will mean that the total amount of Cocoa from Ghana, where Cadburys source theirs, will rise to 15,000 tonnes, which is a lot, however the total annual cocoa production of Ghana is more than 600,000 tonnes. But at least it's a start. Now all they have to do is work on making some chocolate that actually tastes nice!
That's all for this week. Have fun. Oh almost forgot, Elbow were fantastic on Monday evening. Also I said I would review the "controversial" novel Wetlands when I'd read it and now I have. If you like "The Catcher in the Rye" and sliding avocado stones inside your various orifice then you will love it. I like neither of these things.