Now, it would be fairly easy to portray those who "write" for the Daily Express as unpleasant, small minded, borderline racist, xenophobic, black-hearted tossers who think that because our economy is having a bit of a downturn at the moment it's perfectly acceptable for our, comparatively, very rich country to withdraw from the world and slash the Foreign Aid Budget. God forbid that we should help people who are actually starving to death or dying from easily preventable diseases when we have think about delaying Trident for a little while.
It would be easy for me to do that but why should I when they are quite capable of doing it themselves. Here's today's front page,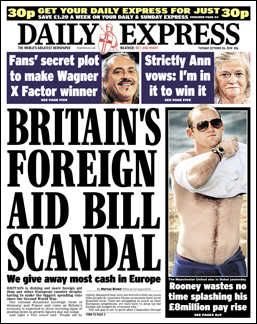 Stopping people from dying is a "scandal" apparently. But surely this is just a one of aberration; it can't be a campaign can it because that would be appalling? Well, here are 2 front pages from last week,
As I said before, I don't have to make them look bad because they are bad and they are not ashamed by it.