Ref.#: LIUK/5020/0291/89
£1,500,000.00 British Pounds Liverwood award WINNER, held in July 2010.
For claims send form;
Complete Name..
Address/Country..
Telephone..
Occupation..
Tel: 00447031802258 : Reply to: liverwish1@aol.com
Liverwood Promotion
Really, these phisers really aren't trying that hard any more.
Ok so it turns out that you can get broadband access in Kent, who knew? Anyway as I am away this weekend I have only have time for a few awards,
The Award for A Joke That No One In Their Right Mind Would Ignore of the Week,
Former US Vice President (and Dark Lord of the Sith) Dick Cheney has had a pump fitted into his chest to assist his heart. Mr Cheney has spent most of his life battling with congestive heart failure and, some far, has had 5 heart attacks, the first of which occoured when he was only 37.
One of the stranger side effects of this sort of pump is that Dick now has no pulse. Come on admit it, we are all think the same thing, I didn't know he had a heart.
The Award for Oddest David Cameron Description of the Week,
The Daily Express describe David Cameron as Ironman Cameron, no it really did! Look there, under the headline, "Ironman Cameron Slams The Release of Evil Al Megrahi"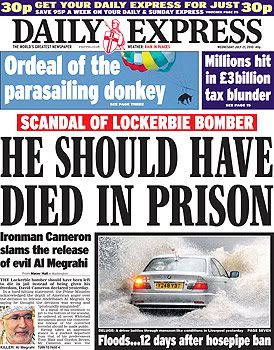 Oh come on that's funny. Ironman! He is a Superhero to the Express it seems.
The Award for a Sentence That Will Cheer Most People Up of the Week,
Goldman Sachs profits fall by 82%. Whilst it is a shame that they are still in business it is heart warming to know that they are making less money.
The Award for Not Being a Great Surprise of the Week,
Earlier this year the Times newspapers online edition disappeared behind a paywall. It was seen as a bold experiment by News International as very few other media outlets were charging for their online newspapers. What would happen? Would revenue from adverts drop away as traffic numbers fell but be replaced by subscription charges so that the site broke even or maybe, possably turned a profit? Who knew? Well no one did and they still don't as News International are not releasing any figures. What we do know is that traffic through the site is down by about 90%.
The Award for Having an End Clearly Written By Disney of the Week,
Muttiah Muralitharan, perhaps the world's greatest bowler has retired. Some will still claim that his bowling style is illegal within the rules of cricket, these people are idiots. Yes he has a funny looking arm but it is still a legal bowling action.
Anyway, enough angry Wisden style rants, his last game finished on Thursday. When it began he had taken 792 test wickets, already way ahead of his nearest rival, but would he make the magic 800 wickets? During the game he had taken 7 wickets leaving him on 799.
During the second Indian innings his bowling partner Lasith Malinga was ripping through the team, would there be one wicket left for Muralitharan?
Of course there would. By it's very nature, when the last Indian batsman was out it was the end of their second innings whatever bowl of the over it was, so if Muralitharan was bowling you could legitimately claim that he got his 800th wicket with his last ever ball in professional cricket. Can you guess what happened? Of course you can.
Muralitharan bowled, Pjagyan Ojha edged it and Mahela Jayawardene took the catch in the slips. 800 test wickets for Muttiah Muralitharan.
That he is the greatest bowler is not up for discussion but he still has not bowled the single greatest ball of all time. That honour goes to the mighty Shane Warne,
There's a song about that ball you know, it's by the Duckworth Lewis Method and it called Jiggery Pokery and it's fantastic,
The Award for Possibly Ironic Award of the Week,
The Council for Learning Outside the Classroom has given a "Quality Badge" to a zoo in Wraxall, near Bristol, in recognition of its educational programme. What is wrong with that you may ask, well the full name of the zoo is Noah's Ark Zoo. Getting anything yet? Noah's Ark? Where is that from....umm... oh yes that is mentioned in Genesis isn't it, the first book of the bible. Oh indeed it is well educated reader of mine, for this is a creationist zoo, and yes, such places do exist.
It looks like a very good zoo, the website is lovely, but there, on the end of the navigation bar is the problem. The bit marked Evolution and Creation.
To be fair to the Council for Learning Outside of the Classroom (who need a snappier name by the way) the zoo may have a very well run and excellently organised education system, it;s just that they are teaching absolute bollocks.
I think that will do, I'm off to Whitstable Oyster Festival. Have a good week what ever you do. Oh and if you haven't listen to it yet, maybe you might like to give the podcast a brief moment of your time. Click
here
to listen